MOZART: Symphony in G minor, K. 183
CHOPIN: Piano Concerto in F minor, op. 21
- intermission -
DVOŘÁK: Symphony No. 8 in G Major, op. 88

Nikolai Lugansky piano
Concerto Budapest
Conductor: András Keller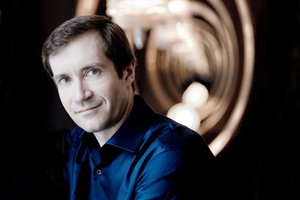 1994 winner of the Moscow Tchaikovsky Competition Nikolai Lugansky has been entrancing Budapest audiences for many years: not only for his virtuosity but equally for his profundity and consistent maximalist drive for tonality. This year, as guest of Concerto Budapest he performs two great Chopin piano concertos. His first concert features the F minor: completed and premiered before the E minor, it was only published later, thus this popular composition is numbered second. Prior to the work by the 19-year-old Chopin, the concert opens with a recital of the 25th symphony by a 17-year-old Mozart, which in order to differentiate it from the 40th in the same key is usually called the 'little G minor symphony'. After the intermission, the stage is set for one of the greatest hits of the 19th century Romantic – and at the same time Slav – grand orchestral repertoire: Dvořák's Symphony No. 8 in G major composed between August and November 1889. As a way of lauding this cheerfully lyrical composition evoking the Czech landscapes and at the same time the rhythms of folk songs, it is perhaps sufficient to say that it was not even overshadowed by the New World Symphony.