JUDIT VARGA: Around the Roundabout – Hungarian premiere
LÁSZLÓ DUBROVAY: Trumpet Concerto No. 2
- intermission -
DOHNÁNYI: Suite in F-sharp minor , Op. 19

Gábor Boldoczki trumpet
Concerto Budapest
Conductor: Tibor Bogányi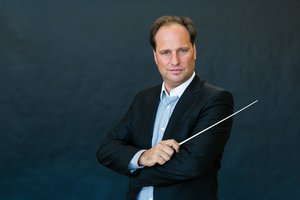 This programme of works by Hungarian composers running from 1909 to 2020 features compositions by Judit Varga, László Dubrovay and Ernő Dohnányi. Judit Varga's Around the Roundabout, written in 2020, is a brief orchestral overture commissioned by the Vienna Radio Symphony Orchestra (RSO) and Marin Alsop. As in other pieces, the composer was also experimenting here with the acoustic projection of kinetic energies. The gigantic orchestra speeds through the piece's five-minute duration incredibly fast and energetically. We feel as if we were on a multi-lane motorway, not only on a single-path trajectory: the various forms of dynamism split and then reunite. Next up is László Dubrovay's 2002 Trumpet Concerto No. 2 (similarly with German associations); the virtuosic solo skills of Gábor Boldoczki were also on display at the world premiere of the symphonic orchestra version of the concerto. Finally, the programme concludes with the Suite in F-sharp minor from the oeuvre of Ernő Dohnányi: the four-movement composition goes by the name of 'Romantic', although the work's (late) Romantic nature is joined by a cheerful aspect typical of the composer as well as humorous ballet and waltz allusions, as already brought to the surface on numerous occasions through the conducting of Tibor Bogányi who is well versed in the intricacies of the suite.