BACH: Brandenburg Concerto No. 6, BWV 1051
MOZART: Piano Concerto in C major, K. 503
- intermission -
MAHLER: Symphony No 10, Adagio
SZYMANOWSKI: Symphony No. 4 ("Symphonie Concertante"), op. 60

Lucas Debargue piano
Concerto Budapest
Conductor: András Keller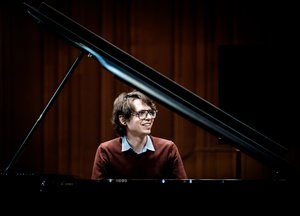 Lucas Debargue is far from your typical young piano virtuoso. Born in Paris, the artist does not come from a family of musicians, he only took up the piano at the age of 11, and then at the age of 15, lacking a suitable mentor, he packed in his studies. He played bass guitar in a rock band and was awarded a humanities degree, then in 2010, at the age of 20, he finally (and to our great fortune) returned to the piano. Concerto Budapest audiences have already had the chance to marvel at his talent on several occasions. For this concert, Debargues is playing one of the most wonderful Mozart piano concertos, the C major composition hallmarked with Köchel number 503. In addition, he gets the solo part in a special 20th century masterpiece rarely heard in Hungarian concert halls: Karol Szymanowski's 1932 Symphony No. 4, dedicated to Arthur Rubinstein and bearing the title Symphonie Concertante. The incredible, and unmissable, density of the programme is indicated by the fact that before these great pieces, András Keller brings us in the first half of the recital not only the Brandenburg Concerto No. 6 by Bach but the 30-minute Mahler Adagio (the unfinished Tenth symphony), in which the concertmaster plays the solo.