Grand Hall
Mozart: The Impresario– overture, K.486
Mozart: Horn Concerto in E-flat major, K.495
Performer: Bálint Tóth ​horn
Mozart: Piano Concerto in G Major, K.453
Perfomer: Dezső Ránki piano
Concerto Budapest
Conductor: András Keller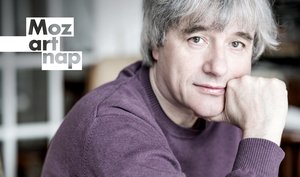 Wolfgang Amadeus Mozart: The Impresario – overture, K 486
The one-act musical play The Impresario by Mozart was presented in 1786 in the company of the Antonio Salieri opera buffa, Prima la musica e poi la parole (First the music and then the words). It appears that at this recital in the Schönbrunn Palace they wished to entertain guests with theoretical problems faced by theatres. Mozart's more textual than musical piece dealt with 'internal matters' of the setting up of a company and casting, whereas Salieri's work revolved around eternal questions of the genre.
Wolfgang Amadeus Mozart: Horn Concerto in E-flat major, No. 4, K 495
The work was dedicated to the proficient horn player Joseph Leutgeb, a long-established friend of the family. Numerous anecdotes have survived about his special friendship with Mozart that permitted the playing of practical jokes. Of the composer's four horn concertos, the E-flat major is the only one Mozart indicated in his own catalogue. Unfortunately, not all the movements survived in the composer's manuscript, but those that have are supremely exciting: Mozart used four different colours of ink and it appears that the colours served to indicate, on one hand, the dynamics and, on the other, the structural relationship between the parts.
Wolfgang Amadeus Mozart: Piano Concerto in G major, K 453
"Today, I once again completed a concerto for Miss Ployer," wrote Mozart to his father in April 1784. Compared to earlier concertos, this work brought significant innovations. The harmony of the first movement had a direct influence on Beethoven's work in the same key and the piano concerto by Brahms. Charles Rosen considers the slow movement to be especially daring and dramatic. The novelty of the finale is that for the first time in a concerto, Mozart applied the variation form, rounded off with a buffa-like presto coda. Mozart's pet bird, a little starling kept in a cage, also learned the theme of this movement and cheerfully warbled it when prompted.