At the Bartók World Competition, the jury was looking for what a young artist could do to capture our hearts, says world-renowned violinist-conductor András Keller, with whom we talked about this year's event, the problems and challenges of a competition, and more.- interview woth András Keller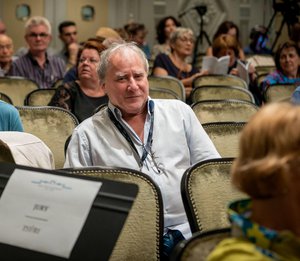 photo:Andrea Felvégi
How did you find the field at this year's Bartók World Competition for Violinists at the Liszt Academy?
Meeting young artists who have a really deep and sovereign message creates a real dividing line between the competitors. To use a sporting analogy: the top two or three centimetres are only cleared by the best. The artistic standard of this year's Bartók World Competition was extremely high, but the organisation and the atmosphere were also great.
What were your criteria for judging? Can you separate your artistic self from the "ear" of the concert-goer?
It's useful if the jury is not always in total agreement and if the jurors look at the entries from different angles because that's how you get the most authentic result, which you can safely say is in some way in line with the audience's opinion. For my part, I listen to the contestants not only as a professional but also as a concert-goer. Even if a musical phrase comes out less than technically perfect, the overall impression of the contestant is still crucial, and personal appeal can be great - these are the very factors that make audiences go to a concert of a mature artist. Sometimes a contestant would use more popular, more spectacular means of expression, but for the majority, this was not the case. A performer can only bring a piece to life if they have not only put in serious preparation and are able to convey the spirit of the composer and the work, but also draws on his or her own personality.
Jury President Daniel Phillips repeatedly stressed the subjective nature of the jury's work. How difficult is it to judge on the basis of subjective criteria and feelings?
In the past, I stopped judging for a while because I perceived irresolvable contradictions between the individually valid but mutually exclusive views of the members. All international panels are made up of great and dedicated artists, so we are always determined to represent the true talents who may become major artists in the future. Then there are many times when a contestant comes along who is technically perfect, yet lacks a captivating personality. Later, another comes along who delivers inspired, sovereign performances, but makes mistakes here and there. In a prestigious competition, this is an almost insoluble dilemma for the jury, even if we recognise that art is not a sporting competition where you must clear the bar or jump a distance or else you fail.
Click HERE for the enitrwe interview on the page of the Liszt Ferenc Academy.