BRAHMS: Begräbnisgesang (Funeral Hymn), op. 13
BRAHMS: German Requiem, op. 45

Klára Kolonits soprano, Nikolai Borchev baritone
Purcell Choir, Concerto Budapest
Conductor: György Vashegyi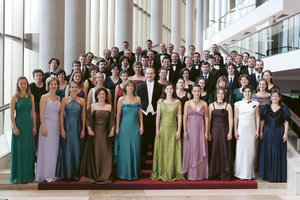 Early, chilly November is the season of remembrance, All Saints' Day is when we go out to cemeteries and cherish the memory of departed loved ones. Requiems are heard in churches and concert halls alike, and Müpa is no different in this respect. For this occasion, Concerto Budapest are joined by Purcell Choir in a performance (under the direction of György Vashegyi) of a Johannes Brahms' masterpiece, A German Requiem, preceded by a shorter, earlier choral work that actually pointed the way to the Requiem, the rarely performed Funeral Song.
A German Requiem by Johannes Brahms is unlike all other requiems. Firstly, it is more an oratorio since it is not a setting to music of the texts of the mass, while it is not in Latin but German. And although the composer compiled the libretto from the Lutheran German Bible, and the Apocrypha, it was common knowledge that the freethinker Brahms was an atheist. "Such a great man! Such a great soul! And he doesn't believe in anything!" his friend Antonín Dvořák noted in sorrow. However, grief, tragedy often make a believer out of an atheist: the first drafts of A German Requiem were sketched out in 1856 at the time of the death of Schumann, then after a long break Brahms returned to his composition on the loss of his mother in 1865; although a slow maturation process, in the end it brought the composer world fame. Funeral Song (Begräbnisgesang, 1858) for choir and wind instruments is frequently seen as the forerunner of A German Requiem. Musicologists consider the work to be a reminiscence on the death of Schumann just as the Piano Concerto in D minor, and the text originating from the songbook of Michael Weiss evokes the image of a funeral.
Joining the Concerto Budapest orchestra this time will be the Purcell Choir and well known soloists Klára Kolonits and Nikolay Borchev, and György Vashegyi, a highly influential conductor of early music in Hungary, thus guaranteeing that we will be able to get to know this esteemed Romantic oratorio from a new perspective.