Steve Reich: Tehillim
Bob Becker: Music on the Moon
Ravel: Piano Concerto for the Left Hand in D mayor
Stravinsky: Symphony of Psalms
Featuring: Balázs Fülei
Conductor: Zoltán Rácz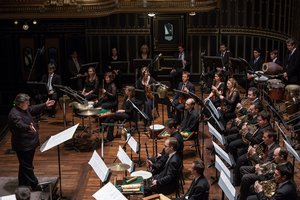 Steve Reich's Tehillim (Psalms) open this evening in the common performance of Concerto Budapest and UMZE orchestra under the baton of Zoltán Rácz, before Bob Becker's Music on the Moon.
Ravel's Piano Concerto for the Left Hand in D major was commissioned by the Austrian pianist Paul Wittgenstein, who lost his right arm during World War I. Before writing the concerto, Ravel enthusiastically studied the left-hand études of Camille Saint-Saëns. The first French pianist to perform the work was Jacques Février, chosen by the composer himself.
"It is not a symphony in which I have included Psalms to be sung. On the contrary, it is the singing of the Psalms that I am symphonizing" – explained Igor Stravinsky his work, which is perhaps the most completely integrated of all Stravinsky's major works and the one which best defines his sense of the spiritual discipline and personal effacement of creative work.