KODÁLY: The Peacock – variations on a Hungarian folk song
VISKI: Cello Concerto
- intermission -
KODÁLY: Symphony in C major

Miklós Perényi cello
Conductor: Gábor Takács-Nagy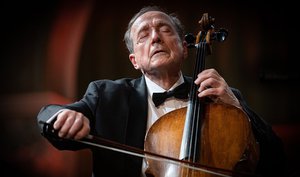 Works by master and student are arranged next to each other in this concert because between two orchestral works by Zoltán Kodály we have the Cello Concerto (1955) by János Viski, who was a student of Kodály at the Liszt Academy from 1927, and who proudly declared: "I am the standard-bearer of the Kodály School." The musical and conceptual historical background to The Peacock is broad indeed, stretching from folk music through Kodályian self-quotations to Endre Ady, although the composer himself said the following of his work: "It requires no musical expertise to understand it. But one has to know the folk song, from which, like a flower from a seed, it grew." The Viski concerto respectfully dedicated to Kodály is a work that both defines an era and is still enthusiastically received today. Its successful premiere featured Ede Banda and now we have a virtuoso cellist of our time to play it, Miklós Perényi. In its day, that is, the early 1960s, the late Kodály work Symphony in C major dedicated to the memory of Arturo Toscanini appeared to be a conservative compositional gesture both in terms of choice of genre and key, although more than 60 years after its debut in Lucerne it is certainly worthy of our attention because – as Anna Dalos put it – the composer's intention was "to add his special voice to the great music universe even at the age of eighty".