lLThe International Classical Music Awards ICMA today announced the nominations for their Awards 2024, celebrating the best musicians and recordings. This year's nominations include many renowned soloists, ensembles, conductors and orchestras as well as a lot of young musicians, many of them being first-nominees.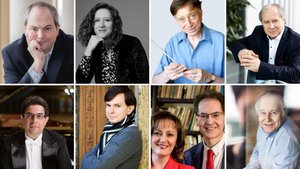 A total of 375 audio and video productions from 115 labels have been nominated. To become a nomination, a production needs to be proposed by at least two jury members. With 23 nominations, Naxos comes on the first place. It is followed by Pentatone (22) Harmonia Mundi (21) and Alpha (20).
Among the nominations there are several Hungarian-related aspects.
Gustav Mahler: Symphony Nr. 1. in D Major – Hommage à Bruno Walter (Hungaroton) – by Izabella Simon and Dénes Várjon
Mahler: Symphony No.9 Concerto Budapest, A. Keller Tacet S 254
Beethoven: Complete works for cello and piano (Hungaroton) – by Ildikó Szabó and István Lajkó
Chopin: Piano concertos Nos. 1&2 (Hungaroton) – by Gábor Farkas, Hungarian Radio Symphony Orchestra, conducted by Tamás Vásáry
Jouissons de nos beaux ans – by Cyrille Dubois, Orfeo Orchestra, György Vashegyi
Beethoven: Violin sonatas Nos. 2., 4&9 – by Dénes Várjon and Antje Weithaas
Dvořák: String Quartet Op 106; Coleridge-Taylor: Fantasiestücke (Hyperion)– by Takács Quartet
Haydn: Late symphonies No. 93-98. (Naxos) – Danish Chamber Orchestra (Adam Fischer)
Franck: Hulda – (Bru Zane) Orchestre Philharmonique Royal de Liège, Choeur de Chambre de Namur, (G. Madaras)
The finalists will be known by 11 December. The selection of the finalists will take place through multiple rounds of voting.
The winners of the prestigious ICMA Awards will be revealed on 18 January 2024. The Award Ceremony and Gala concert will take place at the Palau de la Musica in Valencia on 12 April 2024, with the Orquesta de Valencia conducted by its artistic and musical director Alexander Liebreich.
source: Papageno