SCHUBERT: Piano Quintet in A major ("Trout"), D. 667
SCHUBERT: Rondo in A major, D. 438
SCHUBERT: Symphony No. 8 in B minor "Unfinished", D. 759

Maxim Rysanov viola, Abouzahra Amira violin, Bence Bánkövi cello, Jenő Puporka bass, Ryan Martin Bradshaw piano
Concerto Budapest
Conductor: Kristóf Baráti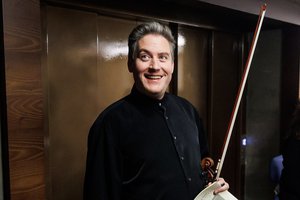 Sylvester Paumgartner. This was the name of the well-to-do music patron of the town of Steyr and enthusiastic cellist who, in 1819, enchanted by The Trout Schubert song, asked the composer staying in Upper Austria at the time to work this Lied melody into a chamber piece. If the story is true, this is how the Piano Quintet in A major was born, with the famous melody in the fourth movement. Concerto Budapest's Schubert Day programme lifts off with a recital of this exact composition. At the concert play the great Ukrainian violist Maxim Rysanov and several young talents discovered in the TV show Virtuózok for the first time together.
Rondo in A major – this titling at first sight can remind us of the late and gently pessimistic four-hand piano work from Schubert's oeuvre, but this time we hear the 1816 Rondo in A major composed 12 years earlier, which does not give the main part to the piano but instead the violin and accompanying strings. The principal part of the composition that could also be qualified as a two-movement, miniature violin concerto is extremely demanding and at the same time a hugely rewarding task for the soloist. This rondo was only published a good eight decades after its birth, and the 'Unfinished' Symphony in B minor (1822) similarly only became known, and immediately attracted a cult following, posthumously. Its debut was in front of a Viennese audience in 1865, and in the words of leading music critic Hanslick, who had previously voiced his reservations: "it brought new life into our concert halls". Indeed, in no time at all these two movements, conducted by Kristóf Baráti, became not only the most popular symphonic Schubert work but exalted as a symbol of the composer's destiny, not least because of its incomplete nature.