SCHUBERT: Sonata in A minor ("Arpeggione"), D. 821
SCHUBERT Songs
The Trout, D. 550
Gretchen at the Spinning Wheel, D. 118
To Sylvia (Who is Sylvia), D. 891
Group from Tartarus, D. 583
In the Glow of Evening, D. 799
The Erl King, D. 328
- intermission -
SCHUBERT: Symphony No. 9 in C major, "Great", D. 944

Juliane Banse soprano, Maxim Rysanov viola, Ildikó Rozsonits piano
Conductors: Kristóf Baráti, András Keller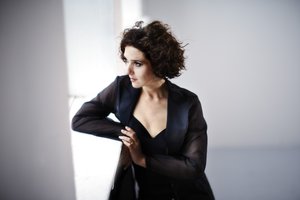 The great evening concert starts with the A minor ('Arpeggione') sonata chamber work. This composition (1824) takes its name from an instrument that today is mentioned mainly as a historical curiosity and one that has totally fallen out of fashion. A cousin of the guitar, it resembled the cello and was played with a bow. Today, the sonata with piano accompaniment is performed by the world-famous Maxim Rysanov playing the viola and accompanied by the pianist Ildikó Rozsonits, one of the talents discovered in the TV show Virtuózok.
Schubert, the lied poet, "the Prince of Song" – this is how his contemporaries paid their respects to the genius composer who died in 1828, signalling that many pieces of his almost unprecedentedly rich output of songs had become hugely popular even when Schubert's works in other genres were not yet or only barely recognized or known. In the first half of the concluding concert of Schubert Day the internationally celebrated German soprano Juliane Banse performs a selection of the finest lieder of his oeuvre and at the same time of the genre as a whole, from The Trout to the Goethe-based Erlkönig. After the break there is the opportunity to hear one of the much-polished gems of the Concerto Budapest repertoire, the Symphony in C major, of "heavenly length". The numbering of the work is still surrounded by contradictions, although the magnitude of which not a single person has ever questioned since Mendelssohn debuted it in Leipzig in 1839 at the posthumous premiere, encouraged by Schumann.