BEETHOVEN: Egmont Overture, Op. 84
BEETHOVEN: Piano Concert No. 3 in C minor, Op. 37
--intermission--
TCHAIKOVSKY: Symphony No. 4 in F minor, Op. 36
Mikhail Pletnev – piano
Concerto Budapest
Conductor: Gábor Takács-Nagy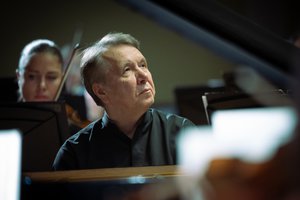 Concerto Budapest's March concert presents three cornerstones of the symphonic repertoire. The Russian pianist – also a key player of concert halls as a conductor –Mikhail Pletnev will feature as the night's soloist. The piano virtuoso gave a highly acclaimed solo concert organised by Concerto Budapest in Müpa precisely two years ago, before the breakout of the coronavirus pandemic. This time, he will play Beethoven's forceful and thrilling piano concerto under the expert baton of Gábor Takács-Nagy.
The concert opens with Beethoven's frequently played work, his Overture to "Egmont", focussing on the tragic Dutch hero, Lamoraal, Count of Egmont. His execution led to the war of independence and, eventually, the victorious liberation of The Netherlands. The overture itself turned into the unofficial anthem of the Hungarian Revolution of 1956. It is followed by Beethoven's Piano Concerto No. 3 in C minor. The key of C minor in itself indicates a similarly tragic tone as in the Egmont Overture. Indeed, Beethoven's use of the key of C minor invariably suggests solemnity and man's fight with God. The worldwide celebrated pianist and conductor Mikhail Pletnev will play the solo part of the concerto, who founded the Russian National Orchestra in 1990. The Bonn-born master's works occupy an important place in his repertoire; he recorded Beethoven's nine symphonies in 2007.
While an entire nation's destiny is at stake in the Egmont Overture, in the second part of the concert, we face the storms in an individual's life: The central theme of Tchaikovsky's Symphony No. 4 – just like in Beethoven's Symphony No. 5 – is destiny. The folk music collector Bartók might also come to mind when we recognise the Russian folk song "In the Field Stood a Birch Tree" in the finale of Tchaikovsky's symphony. The concert reflecting a unique musical and thematic relationship will be conducted by the ever-young Gábor Takács-Nagy, whose music is, as always, all heart and soul.