Host of Mozart Day: Gábor Takács-Nagy
Liszt Academy, Grand Hall
MOZART: Piano Concerto No. 24 in C minor, K.491
MOZART: Symphony No.38 in D major K.504 "Prague"
Featuring: Mikhail Pletnev piano
Concerto Budapest
Conductor: Gábor Takács-Nagy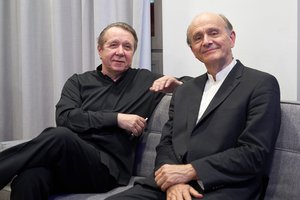 The celebrated pianist, Mikhail Pletnev, and the returning guest conductor of Concerto Budapest, Gábor Takács-Nagy, will jointly interpret two of the composer genius's two monumental pieces at the Opening Concert of the Mozart Day: Mozart's Piano Concerto in C minor and his symphony ″The Prague″ in the Grand Hall of the Liszt Academy.
Mozart completed his Piano Concerto No. 24 in C minor (KV 491) on 24 March 1786, just three weeks after finishing Piano Concerto No. 23 in A major (KV 488), right before his opera Le nozze di Figaro and a year and a half before penning Don Giovanni (1787). In the period of 1784 and 1786, he composed twelve piano concertos, which is a tremendous feat considering the original ideas and exceptional quality of these pieces. Their uniqueness lies mainly in the sonority and texture created by the extended role of wind instruments. Mozart was so fascinated by the great number and wonderful skills of wind instrumentalists in Vienna that he treated them as a separate sound unit standing opposite the piano, to which it could respond in the musical dialogues. In this sense, Mozart's woodwind scoring plays a particularly important role in this concerto series, as the woodwinds don't only double the strings but feature as independent ″dramatic characters″. Apart from his operas, it is only his Piano Concerto in C minor where the entire woodwind section is present besides the horns, trumpets, and timpani, evoking the universe of operas and starring in a privileged soloistic role.
Mozart wrote his ″Prague″ in the same year as his Piano Concerto in C minor, especially for the Prague audience, as his popularity was declining in Vienna at the time, while he came to Prague as a highly illustrious composer. It was mainly his Figaro that brought him success. As he put it in an earlier letter to a friend in Vienna, ″For people here talk about nothing but Figaro; they play nothing, sing nothing, whistle nothing but Figaro; they go to no opera but Figaro and forever Figaro." Mozart himself conducted his Symphony in D major ″Prague″ in the Bohemian capital in January 1787 alongside his Figaro, where he took to the stage both as a pianist and a conductor during his one-month stay. Besides evoking Figaro's comic adventures, there was already a premonition of Don Giovanni's sensuality and pain in his symphony.
The Mozart interpretation of the world celebrity Mikhail Pletnev, famous for his expressivity, and Gábor Takács-Nagy's charismatic presence alongside the sensitive musicianship of Concerto Budapest will undoubtedly give the audience of the Opening Concert special joy.