Host of Mozart Day: Gábor Takács-Nagy
Liszt Academy, Grand Hall
MOZART: Piano Quartet in G Minor, K.478
MOZART: Quintet for Piano and Winds in E-flat Major, K.452
Featuring: Mikhail Pletnev piano, Keller Quartet (András Keller violin, Máté Szűcs viola, László Fenyő cello), Béla Horváth oboe, Csaba Klenyán clarinet, Bálint Mohai bassoon, Bálint Tóth horn,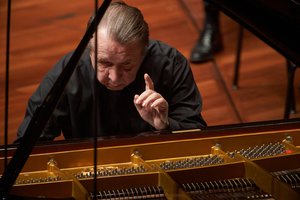 Mikhail Pletnev's unparalleled piano playing links the two masterpieces of the second concert of the Mozart Day series: his Piano Quartet in G minor and his Piano Quintet in E-flat major.
In the piano quartet commissioned by Franz Anton Hoffmeister in 1785, the viola, Mozart's beloved instrument, complements the conventional trio. The publisher had meant to dedicate this piece to Viennese amateur musicians, so because of the complexity and technical difficulties the performers had to face, the publisher eventually only paid for one out of the three he had ordered and cancelled his further orders, as he deemed the piece far too challenging. The members of the Keller Quartet – András Keller, Máté Szűcs, László Fenyő and Mikhail Pletnev will interpret this masterpiece in its full splendour with their emotional and virtuoso rendering. The quartet's unique feature is its Allegro movement's profound solemnity since preceding composers had used this tone only in slow movements before.
In the second part of the concert, the audience can relish Mozart's Piano Quintet in E-flat major, on which the composer remarked in one of his letters to his father: "…I wrote two great concerts (KV 450 and KV 451) and then a qintett for oboe, clarinette, corno, fagotto and pianoforte, which received extraordinary applause; I myself think it's the best I've ever written in my life… if only you had heard it!" Mozart dated his Quintet in E-flat major, scored for piano, oboe, clarinet, horn and bassoon to 30 March 1784, was premiered on 1 April in the Burgtheater with Mozart himself at the piano. Beethoven admired this piece with this unusual formation so much that he also composed a Quintet in E-flat major, his Opus 16, for the same instruments Mikhail Pletnev and the wind soloists of Concerto Budapest – Béla Horváth, Csaba Klenyán, Bálint Mohai and Bálint Tóth Bálint – will take farewell from the audience in a thrilling cadenza written for all five instruments requiring a high level of instrumental and chamber music skills.