Host of Mozart Day: Gábor Takács-Nagy
Liszt Academy, Grand Hall
MOZART: Symphony No.40 in G minor, K.550
MOZART: Piano Concerto No.20 in D minor, K.466
– interval –
MOZART: Symphony No.41 in C major K.551 "Jupiter"
Featuring: Mikhail Pletnev piano
Concerto Budapest
Conductor: András Keller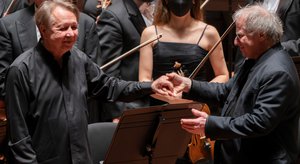 It's hard to believe, but Mozart completed his final three symphonies in around nine weeks in the summer of 1788: he began writing his Symphony No. 39 in E-flat major in early June, nearly a month after the Vienna premiere of his Don Giovanni, and then, he completed his Symphonies in G minor (KV 550) and C major (KV 551) on 25 July and 10 August respectively. In only nine weeks, Mozart wrote twelve movements, meaning he spent five days and a few hours on average composing a single movement. This time, however, doesn't include the other pieces he was writing at the time, the piano lessons he was giving, looking after his sick wife, the death of his six-month-old baby girl, the hospitality he provided to his friends, his relocation to a new home and his nagging of his fellow free-mason, Michael Puchberg, for loans.
Musicological research cannot make a certain statement about the public premieres of these final symphonies during Mozart's lifetime. It is all the easier to make a sure claim, however, regarding the prestige and popularity of his Symphony in G minor, "the Great″, since Beethoven, Schubert and Schumann were just as enthusiastic about this masterpiece as the consecutive generations of music lovers in the past two centuries.
As Mozart's father described the premiere of the Piano Concerto in D minor (KV 466) in a letter addressed to his daughter, Nannerl, "(Then), we had a new and very fine concerto by Wolfgang, which the copyist was still copying as we arrived, and the rondo that your brother did not even have time to play through, as he had to supervise the copying." Like many of his other concertos, also this masterpiece was written in a great hurry. The minor key, which is quite rare in Mozart's concertos, simultaneously evokes the dramatic tone of his Don Giovanni and is a precursor of Romanticism. Also, Beethoven performed the piano solo of this highly popular Mozart piece, even jotting down for subsequent generations the improvised cadenza he had played.
In the 19th century, Mozart's final three symphonies were considered to be "the brightest stars in the musical firmament". With its majestic fanfare, the one in C major still fascinates the audience and professional musicians alike. The piece's climax is the finale devised with virtuosity, where a motif from a Gregorian chant enfolds into a theme, the theme of the transition, the side theme and the concluding theme, which finally come to life together. It's by-name "Jupiter", indicating the work's solemnity, is attributed to the renowned impresario, Johann Peter Salomon, who had brought Haydn's "London" symphonies to public recognition.
As András Keller commented in reference to Mozart Day, "Mozart's music returns to us our lost Paradise, as he was capable of showing the marvel of human existence through music. Both joy and pain speak in his works with superiority, simplicity and naturality. If we surrender to his music, we'll find peace." Mikhail Pletnev, András Keller and Concerto Budapest conclude the thematic concert series played in homage to Mozart with this grandiose final concert, giving a life-long memory to the audience of the Liszt Academy.