Grand Hall:
Mozart: Concerto for Flute, Harp and Orchestra in C major, K 299
Featuring: Orsolya Kaczander, Andrea Vigh
Mozart: Concerto No. 10 for Two Pianos in E-flat major, K 365 (K 316a)
Featuring: Dénes Várjon, Izabella Simon
Featuring: Concerto Budapest Symphony Orchestra
Conducting: András Keller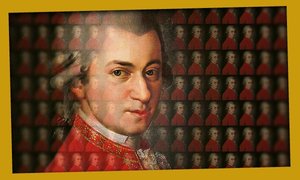 Wolfgang Amadeus Mozart: Concerto for Flute, Harp and Orchestra in C major, K 299
When in the summer of 1778 Mozart travelled to Paris, the young musician carried in his pocket a letter of recommendation from his patron Baron Grimm to the Duke of Guines. In correspondence, Mozart writes in glowing terms about how incomparably the duke played the flute and his daughter the harp. The visit concluded with the Duke of Guines commissioning a concerto from Mozart for himself and his daughter. In a later letter the composer informed his father that although the duke accepted the concerto, he omitted to pay for it. He also taught the young harpist for a short while, although only music history, and not Mozart, profited from this collaboration (he reported in detail to his father on the teaching method): when music lessons were cancelled following the announcement of the engagement of the young lady, the composer indignantly refused the miserly fee he was offered. The Concerto for Harp and Flute in C major is a masterpiece of light and elegant society music. The composer relaxes the form even in the first movement, he is not averse to the temptation of new ideas and is happy to allow one or two virtuoso turns. Of the two instruments, the harp is linked to form-shaping elements in the subject matter while the flute is bolder in bringing out the new. The solution employed for the closing movement is extremely interesting because in it we perceive the outlines of the theme (Italian in origin, worked out in French gavotte rhythm), that years later provided the perfect form in Eine kleine Nachtmusik.
Wolfgang Amadeus Mozart: Concerto No. 10 for Two Pianos in E-flat major, K 365 (K 316a)
Mozart penned the double piano concerto for accomplished musicians. He planned to debut it together with his sister. Although the year 1779 is cited most frequently in Mozart literature, it was probably actually composed around 1776 (prior to his trip to Paris), since cadences written for the first and third movements were on paper that he and Leopold used between 1775-1777. The composition only premiered years later, with Mozart partnered by Josepha Barbara von Auernhammer, the talented student of the composer. Mozart used the lively melody of the closing rondo in the finale of an E-flat major wind divertimento (K 252) dating from 1776. The theme was a popular German folk song, also worked up by Haydn and Beethoven.