Solti Hall
Mozart: Adagio and Rondo for for glass harmonica, flute, oboe, viola and cello, K 617
Featuring: Zoltán Rácz, Szabolcs Szilágyi, Gerda Rózsa, Eszter Karasszon, László Móré
Mozart: Clarinet Quintet in A major, K 581
Featuring: Csaba Klenyán, Alexander Janiczek, Zsófia Környei, Máté Szűcs, Louise Hopkins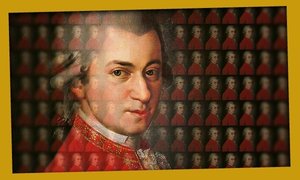 Mozart: Adagio and Rondo (Glass Harmonica Quintet), K 617
This composition, the final chamber music work by Mozart, dates from May 1791, six months before his death. The rare instrument, a virtuoso of which, Marianne Girchgässner, inspired Mozart, is made of glass cylinders. The astonishingly pure, high notes are extracted from the instrument by touching the revolving cylinders with a damp cloth. A flute, oboe, viola and cello feature in the instrumentalization of the work.
Wolfgang Amadeus Mozart: Clarinet Quintet in A major, K 581
Mozart was particularly drawn to the clarinet. He exploited the opportunities inherent in the instrument's tones and divergent registers in a few symphonies and piano concertos, plus he wrote several works in which the clarinet is given the solo part. Anton Stadler, Mozart's "excellent clarinettist and dissolute friend", played an important role in the genesis of the latter works, the A major clarinet concerto and clarinet quintet. In fact, the quintet, named by Mozart the 'Stadler quintet', was completed in 1789. There were plans for another clarinet quintet, this one in B-flat major, but only parts of this have survived. For Mozart, the key of the A major quintet is associated with exuberant love. When he writes expressive melodic themes for clarinet, true arias are born, the libretto-less companions of scenes revealing feelings of love in operas. Perhaps it is no coincidence that the sensual beauty of the clarinet quintet brings to mind sweet ecstasy.
Considering that today the work is considered a jewel of chamber music, it is strange to know that it played merely a minor role at its premiere. This performance took place at a charitable concert of the Viennese Tonkünstler-Societät (raising funds for retired artists, widows and orphans of musicians), during the intermission of Vincenzo Righini's two-part cantata The Birth of Apollo (Il natale d'Apollo).