MARTIN CHRISTOPH REDEL: Les Adieux, op. 61 Hommage à György Ligeti (Hungarian premiere)
PETER EÖTVÖS: Dodici per sei
- intermission -
EDGAR VARÈSE: Déserts
(accompanied by motion pictures by Bill Viola)

Concerto Budapest - Ligeti Ensemble
Conductor: Peter Eötvös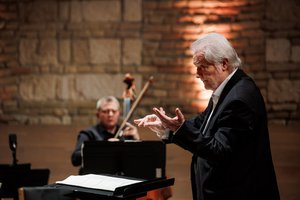 Ligeti Ensemble, formed under the aegis of Concerto Budapest, gave their first recital in 2018. The primary objective of the formation is to showcase the most significant works of the 20th and 21st centuries, with particular emphasis on new Hungarian works. Their BMC concert in April is conducted by Péter Eötvös, who acquaints the audience with important works by Martin Christoph Redel and Edgard Varèse.
The German composer, Martin Christoph Redel gained national and international recognition early on. His work Les Adieux was composed in 2006 as an Hommage à György Ligeti for the Portugal-Tournee 2007 of the string orchestra Junge Kammerphilharmonie NRW.
Although of French-Italian descent, Varèse spent a large part of his life in America. Sound, timbre and rhythm. These are the primary organizational elements of works by the artist known as the father of electronic music. The work Déserts (1950–54) by the composer, who had a huge influence on his contemporaries and artists who came after him (for example, Frank Zappa was one of his devotees), applies not only wind and percussion but audio tape as well: the title refers not only to the deserts of the world but the deserts of human souls as well, "distant inner space no telescope can reach, where one is alone". The performance of Déserts originally made as music for a Modernist film is here accompanied by motion pictures by contemporary American video artist Bill Viola. Between the works of Redel and Varèse is Péter Eötvös's own work Dodici per sei for six cellos, debuted by 12 cellists of the Berlin Philharmonic, which takes on and progresses the structure and material of his Cello Concerto Grosso.