Concerto Budapest Symphony Orchestra audition of second Bassoon, Contrabassoon.
Application's deadline is Friday, 29 April 2022
Audition: Saturday, 7 May 2022, 1 pm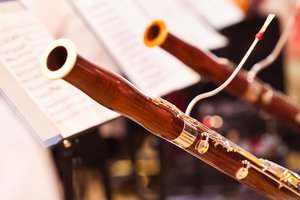 Application process: By Friday, 29 April via email with a brief professional CV sent to our Orchestra Manager, Éva Sóvágó, at sovago.eva@concertobudapest.hu
Time and date of the audition: Saturday, 7 May 2022, 1 pm
Location of the audition: Concerto Budapest Zeneház/Music House, address: 1094 Budapest, Páva utca 10-12.
The audition consists of the following:
Round I:
W.A.Mozart: Bassoon Concerto in B-flat major, Movements 1 and 2
Round II:
Mozart: Le Nozze di Figaro – overture
Bartók: Concerto, Movement 2, Play of the couples, Part 2 and Part 3
Brahms: Violin Concerto in D major, Movement 2
Beethoven: Symphony No. 4
Beethoven: Symphony No. 6, Movement 4
Beethoven: Symphony No. 9, Movement 4
Berlioz: Symphonie Fantastique – excerpts
Leoncavallo: Pagliacci
Haydn: Symphony No. 88
Mozart: The Magic Flute - overture (parts for Second Bassoon)
Smetana: The Bartered Bride
For contrabassoon:
Beethoven: Symphony No. 5
Beethoven: Symphony No. 9
Brahms: Symphony No. 3
Dohnányi: Variations on a Nursery Song
Ravel: Ma mère l'Oye (Mother Goose) Suite, Movement 4
Ravel: Piano Concerto for the Left Hand
Strauss: Salome
After arrangements with the candidate, the Orchestra provides them with a contrabassoon and a rehearsal room. At the audition itself, the Orchestra provides piano accompaniment.

After receiving the application material, the scores of all the excerpts will be sent to the candidates as pdf attachments of the response email.