Works by Joncières, De Grandval, Godard, Massenet, Thomas, Gounod, Fourdrain, Offenbach

Gabrielle Philiponet, Anaïs Constans soprano, Anna Dowsley mezzo-soprano, Michael Arivony baritone
Concerto Budapest
Conductor: György Vashegyi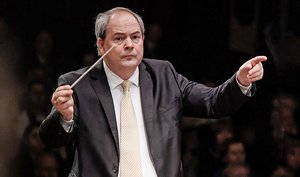 Let's not deny it, here in Hungary French opera is represented by only a few hit works on the repertoire and in the public mind, so it's good if the Tales of Hoffmann or Samson and Delilah end up fitting into this narrow range along with Carmen and Faust. The fact is, however, that this operatic tradition is so much richer than this, as numerous productions put on by György Vashegyi in recent years have convincingly proved. Now we have him and his ensembles, as well as prestigious foreign singers regularly appearing in Hungary to thank for the chance to become acquainted with the hidden treasures of French Romantic opera. The gala includes opera fragments by composers whose names are not even familiar to our ears, for instance, Victorin de Joncières and the female composer Clémence de Grandval. In addition, arias, duets and tercets from the operatic oeuvres of Massenet, Gounod, Offenbach and Thomas, honoured and renowned masters of Gallic music, are also performed.